ACME products are typically purchased by Wile E. Coyote. They were mentioned and seen a lot in the classic Looney Tunes shorts. However, the ACME products were also mentioned a few times in The Looney Tunes Show, specially in the first season, with the CGI shorts, featuring Wile E. Coyote and Road Runner.
Gallery of ACME Products
Website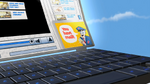 Wile E. Coyote usually orders his ACME products through a website called "ACME Catalog". ACME Catalog was seen when Wile E. brought the ACME Giant Spray in Fe Fi Fo Dumb and ACME Batman Suit in Another Bat Idea. The site usually showcases hot deals, limited time offers and gives away newsletters showcasing new products.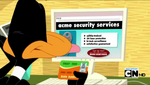 In a rare appearance outside of the CGI shorts, ACME's site was seen again in Daffy's attempt of getting ACME Security Agents when someone stole his handbag, seen in It's a Handbag.
Acme also appeared in Spread Those Wings and Fly .
ACME Information
ACME Giant Spray

First product to be brought online and seen in the series.
Results are temporary and temporary results might also be temporary.
Had a limited supply offer.
Wile E. grew big in an attempt to catch the Road Runner, but he shrunk and grew as temporary affects.

ACME Sphere
ACME Flying Car

Wile E. drove into space with the car.

ACME Insta-Winter

Wile E. made it winter instantly with the Insta-Winter.
Only ACME product to make an appearance outside the show, as seen in the Cartoon Network game, Coyote's Chase.

ACME Batman Suit

The suit is a reference to the comics, show and movies of Batman.
Ad blocker interference detected!
Wikia is a free-to-use site that makes money from advertising. We have a modified experience for viewers using ad blockers

Wikia is not accessible if you've made further modifications. Remove the custom ad blocker rule(s) and the page will load as expected.