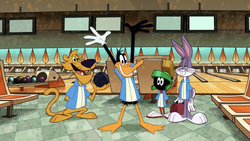 uc

Daffy's Ducks is the name of Daffy's bowling team in the episode To Bowl or Not to Bowl.
History
Porky's Injury
Porky got injured and Bugs took over...
Challenge
The Lucky Strikers challenged Daffy's Ducks to a game...
Final Game
Daffy Duck had two chances to win the game for Daffy's Ducks, but he missed twice...
Season 2 
Team is Back
Daffy's Ducks is back to bowling... 
Challenge
The Sharks Pins challenged Daffy's Ducks is back to a game... 
Final Game
Bugs Bunny had two chances win the game for Daffy's Ducks, Terry Delgado and Kevin the Shark is Defeated and Daffy's Ducks is win the tournament... 
Team Members
Daffy's Ducks members include Daffy Duck (team leader), Porky Pig, Pete Puma, Marvin the Martian (teamates) and Bugs Bunny (Porky's substitute). The team except Bugs (who never goes to high school) are all friends from N.W. South High School and bowl at Bowl 'n Fun. They are fierce rivals of the Lucky Strikers, led by Terry Delgado. They are mainly rivals because of Terry's rudeness and Carl's amazing strikes.
Team Nicknames
Average Scores
These are the Ducks' average scores from best to worst.
Ad blocker interference detected!
Wikia is a free-to-use site that makes money from advertising. We have a modified experience for viewers using ad blockers

Wikia is not accessible if you've made further modifications. Remove the custom ad blocker rule(s) and the page will load as expected.