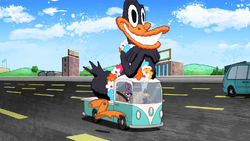 Daffy Duck's old-fashioned blue and white truck is used to make a parade float of himself, which he uses as his regular mode of transport. He uses the daily newspaper, crumbles it up, turns it into papier mache, and uses it as a sculpture of himself.
Appearance
It is a blue and white volkswagen type 2, that contains paper-mache material, which forms to make Daffy's head, his teeth, and his chest down to his stomach. Then his legs are shown, shorter than usual, with his feet flopping whenever he drives in it. It also seems to have a horn on it. It first appeared in Monster Talent, and has appeared numerous times since then. It was destroyed in The Float, after Daffy let it go through the car wash, but was later repaired in the same episode, by Bugs.
Gallery
Ad blocker interference detected!
Wikia is a free-to-use site that makes money from advertising. We have a modified experience for viewers using ad blockers

Wikia is not accessible if you've made further modifications. Remove the custom ad blocker rule(s) and the page will load as expected.