Elmer Fudd

Gender
Male
Occupation
News Reporter
Songs sung
1
Grilled Cheese
Voiced by
Billy West
Elmer Fudd is the resident TV news reporter, that has an infamous laugh. His dry, sluggish delivery can make even bad news seem not-so-bad. He also loves grilled cheese sandwiches.
Biography
Edit
Elmer first appears in the pilot episode, Best Friends, in the Merrie Melodie singing about his love for grilled cheese sandwiches.
Elmer briefly appears in Blow My Stack at an anger management class.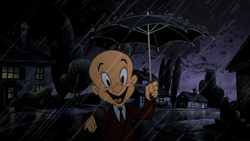 Elmer later appears in the episode The Fish and Visitors, as the weatherman on the local news that Bugs and Daffy were watching.
Elmer appeared in Working Duck as a reporter talking about the robbers are escaping because of Daffy. In the end, he talks about Daffy ruining the company.
Appearances
Edit
In the pilot episode "Best Friends," the Merrie Melodie is a song that showcases Elmer singing about his (almost fanatical, highly disturbing, and ambiguously sexual) love of grilled cheese sandwiches.
Usually, Elmer is an antagonist of Bugs/Daffy in all classics but in the series, he appears neutral towards them (since they actually never met)
His previous occupation was a rabbit/duck hunter but as shown in the series, he is a local reporter instead.
In the episode "You've Got Hate Mail", Elmer gets the hate email from Daffy even though they've never interacted in the show. It is possible Daffy was complaining about how he used to hunt Bugs and Daffy down. In this episode, he's seen wearing his original hunter's outfit.
He always replaces his R's with W's.