Instant Martians are bird-like Martians who work for and were made by Marvin the Martian. There are all kinds of Instant Martians, including males, females, and hippies among others. They have appeared in several Merrie Melodies, but have not made a single appearance in a story.
Summary
The Instant Martians first appear in Members Only's Merrie Melody I'm a Martian. One is playing the music, another one catching the frisbee, other two being attacked by the seven-layered dip, playing the guitar and listening to their leader at the party. The Female Instant Martians are dancing with Marvin during the song.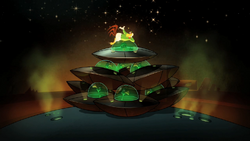 Their second appearance is in the song Cock of the Walk. They appear along with Marvin when Foghorn Leghorn sings about when he caught a flock of UFO's.
Their third appearance is in a Be Polite, another Merrie Melodie. While Marvin is singing, the Instant Martian is being hit by the words "Bless You" and "Stairs". They also show the letters of Be Polite.