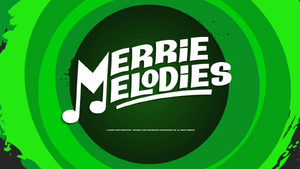 Merrie Melodies are one-two minute music videos that air in the middle of almost every The Looney Tunes Show episode in Season 1. In Season 2, they appear at the end to replace the CGI Shorts. The songs are available on iTunes for 99¢.
According to the show's debuting press release, it states The series also features Merrie Melodies — animated music videos of original songs spotlighting everyone from Elmer Fudd to Pepe Le Pew.
All of the title cards of each song has been the same with the song name in white in the middle of a big green circle and other green circles bordering the big green circle in the middle, with the only exception being The Wizard, which had a very special title card.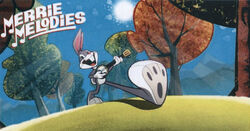 The first episode with a Merrie Melody, but not a CGI short was the first episode, Best Friends. The longest streak of Merrie Melodies lasted four episodes in a row, from Best Friends to The Fish and Visitors. The longest streak without having a Merrie Melody were three episodes from Devil Dog to Eligible Bachelors.
For a more detailed and complete list of all Merrie Melodies, click here.
Season 1 Title Card Gallery
Edit

Season 2 Title Card Gallery
Edit

Future Merrie Melodies
Edit
List of Merrie Melodies
Edit
See also: List of Merrie Melodies Songs
Not all Looney Tunes episodes feature a Merrie Melody.
Monster Talent was the very first episode that doesn't feature a Merrie Melody and didn't have an interference of it within the episode.
Christmas Rules was not featured in Merrie Melodies.
So far, Season 2 only has 7 Merrie Melodies.