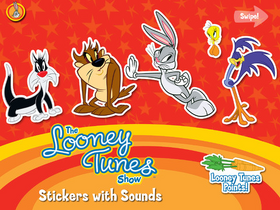 The Looney Tunes Show: Stickers With Sounds is a Looney Tunes Show app for the iPad.
Details
The app follows Bugs Bunny who explains he accidentally dropped his carrots around the forest and asks you to assist him, by picking them up. There are multiple items in the game where you can click them bringing you to a new location. You can then create an all-new picture with the Looney Tunes characters and identify the carrot hidden, that is secretly hidden somewhere in the picture.
Trivia
The game mostly uses the season two designs being more accurate to The Looney Tunes Show than lots of released promotional pictures. This game is an excellently great way to get promotional images of characters in their season two designs.
Strangely, while most characters are depicted their season two design, Pepe remains in his season one design.
Ad blocker interference detected!
Wikia is a free-to-use site that makes money from advertising. We have a modified experience for viewers using ad blockers

Wikia is not accessible if you've made further modifications. Remove the custom ad blocker rule(s) and the page will load as expected.