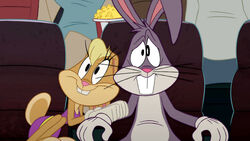 The Movie Theater is a location where Bugs, Daffy, and their friends often visit. There are movies like Marty the Whale, however there are also intense war movies.
Summary
The Movie Theater first appeared in Members Only, where Bugs and Lola are seen having a date. Lola exasperates Bugs the whole movie, including the previews.
It re-appeared in The Foghorn Leghorn Story, when Foghorn's movie is shown. It only sold six tickets.
The theater appeared in That's My Baby, when Daffy takes Zachary to a movie, but not before Daffy took them to a frightening and gorey war movie by accident.
It appeared in The DMV, when Daffy slyly tries to get a discount, dressed as a student and baby.
It was also mentioned in Beauty School.
In Dear John, Lola and Bugs go there to see a sad movie, but Lola cries and laughs during the whole movie.
Gallery
Ad blocker interference detected!
Wikia is a free-to-use site that makes money from advertising. We have a modified experience for viewers using ad blockers

Wikia is not accessible if you've made further modifications. Remove the custom ad blocker rule(s) and the page will load as expected.