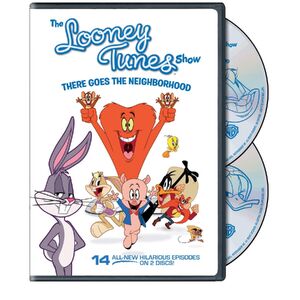 There Goes the Neighborhood was the fourth DVD release of The Looney Tunes Show. It was released on July 10, 2012 and cost $19.97 for the final fourteen episodes of the season in a two-disc set.
Summary
Bugs, Daffy, Elmer, Foghorn, Sylvester, Tweety, Granny and all your favorite Looney friends are back! It's The Looney Tunes Show! Get ready to laugh till it hurts, when the Looney Tunes gang takes you on one hilarious roller coaster ride of fun after another! It's episode after episode of Looney Tunes adventure and Looney Tunes insanity for the whole family to enjoy. And wait, there's more! Not only will you get all these side-splitting madcap shows, you'll also get brand new Merrie Melodies and Road Runner shorts. The laughs never end with The Looney Tunes Show! Includes the 2nd half of the 1st season, 14 episodes.
Warner Home Video has announced today that they will release a DVD titled The Looney Tunes Show - There Goes The Neighborhood on July 10th. This 2-disc release priced at $19.97 SRP will include these episodes:
Disc 1
Disc 2
With this purchase, these episodes will also be available as digital copies during the first two years after the street date, using the UltraViolet instant streaming process. The thumbnail-sized image of the box art shown above is all we have at this time, but stay tuned and we'll try to get you a bigger picture. Also, the package design may not be final yet, and could be subject to change. We'll let you know what we find out!
Ad blocker interference detected!
Wikia is a free-to-use site that makes money from advertising. We have a modified experience for viewers using ad blockers

Wikia is not accessible if you've made further modifications. Remove the custom ad blocker rule(s) and the page will load as expected.