Hi, guys! It's me, bugsbunny825 and I've got a scoop from Jessica Borutski! I found the reason why the CGI shorts were canceled in Season 2 and some information on the series finale. He's the photo: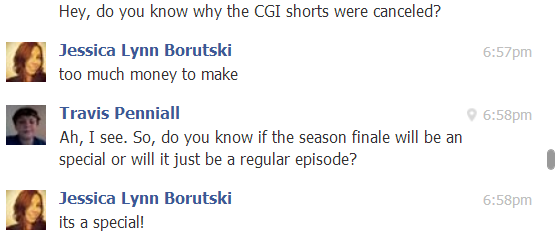 That's right, folks! The last episode will be a special! Will it be regular length or double length? I don't know. What's it gonna be about? I don't know. We'll just have to wait and see!
Ad blocker interference detected!
Wikia is a free-to-use site that makes money from advertising. We have a modified experience for viewers using ad blockers

Wikia is not accessible if you've made further modifications. Remove the custom ad blocker rule(s) and the page will load as expected.