I have some questions concerning Wile and Road Runner in this new show. The CGI shorts are to be canceled for Season 2 so does this mean they will appear more in the show in their 2D format? If this is so I want to know what them Road Runner will look like since he has not appeared in the actual show yet. Will his tail be light blue like in the CGI shorts or will be tail be plum like in some pictures when he's in his 2D self? What do I mean? Well, take a look at these photos: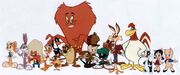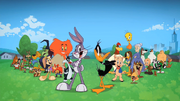 Ad blocker interference detected!
Wikia is a free-to-use site that makes money from advertising. We have a modified experience for viewers using ad blockers

Wikia is not accessible if you've made further modifications. Remove the custom ad blocker rule(s) and the page will load as expected.