Hey guys! I got some important information about Season 2 of The Looney Tunes Show! You know, how Petunia won't appear in Season 2? Well, it turns out that was a rumor! I contacted Jessica Borutski, the designer of The Looney Tunes Show, on October 1st 2012 (the day before Season 2 aired) and asked her if Petunia Pig would be appearing in Season 2 or not. I waited for her response for a long time and forgot about the message. But today I was on Facebook and dscovered I had gotten a message by some random girl. When I clicked on the message to see what it was I instantly realized it was Jessica Borutski. And, what did she say? Well, she told me that Petunia will be appearing in Season 2! Here's a snapshot on my message along with her response.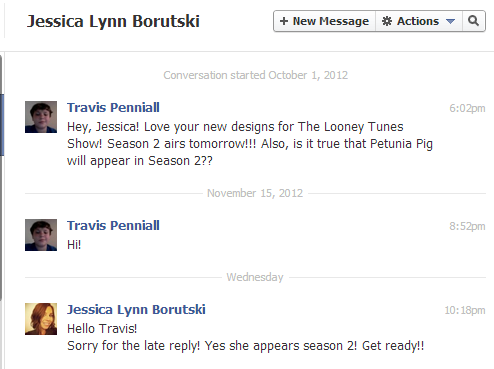 Ad blocker interference detected!
Wikia is a free-to-use site that makes money from advertising. We have a modified experience for viewers using ad blockers

Wikia is not accessible if you've made further modifications. Remove the custom ad blocker rule(s) and the page will load as expected.